Thank You For Today, the ninth album from Seattle indie rock band Death Cab For Cutie, is most likely destined to be labeled the band's first without multi-instrumentalist and producer Chris Walla, although Walla didn't produce the band's last album, the underrated Kintsugi, despite appearing on most of the tracks.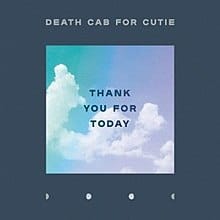 Thank You For Today sees the return of that album's producer, Rich Costey, who has produced albums by Sigur Ros, Frank Turner, and Franz Ferdinand. The album's release was preceded by the singles, "Gold Rush," "I Dreamt We Spoke Again," and "Autumn Love." Longtime band members Ben Gibbard, Jason McGerr, and Nick Hammer were joined by Zac Rae and Dave Depper for the Kintsugi tour, and officially joined the band last year.
Death Cab's upcoming tour includes two nights at Tower Theater in Upper Darby on October 9 and 10.
Other albums out today that we're listening to:
Ariana Grande – Sweetener
Great Lake Swimmers – The Waves, The Wake
Mitski – Be The Cowboy
Thee Oh Sees – Smote Reverser
Header image via Spin.com.